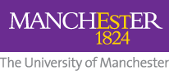 Home
Student Development and Community Engagement Division
Calendar of events
Listed here are the key dates for the 2017/18 academic year plus some of the main volunteer recruitment and celebration events that we run. You can register your organisation with us to receive our free newsletter and keep up to date with the events, support and services on offer to you.

Volunteering Fair and Social Justice Fair - 17 October 2017

Around 75 organisations are take part in this event which also acts as a volunteer recruitment fair. This event has attracted over 1,500 students in previous years.
Student Volunteering Week - 19 to 25 February 2018

A wide range of volunteering activities take place on and off campus during Student Volunteering Week. Contact us to find out how your organisation might get involved.
Volunteer of the Year Awards - To be confirmed

Nominations are invited annually for the Volunteer of the Year Awards in which we celebrate the contributions of University of Manchester staff , student, or alumni.

End of academic year - 8 June 2018