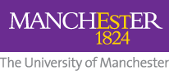 Home
Student Development and Community Engagement Division
Organisation case studies
We work in close partnership with over 500 charities, community and not-for-profit organisations across Greater Manchester and beyond, recruiting student volunteers on their behalf for a wide range of activities.
Here are what some of our partner organisations have to say about working with the Volunteering and Community Engagement Team at the University and our student volunteers.
ASSIST A local neighbourhood care group that regularly recruits student volunteers for its events and monthly film club.
British Heart Foundation Works in partnership with the University's Volunteering and Community Engagement Team on a variety of initiatives.
NHS Blood & Transplant Recruits student volunteers to promote blood donation sessions.