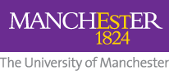 Home
Student Development and Community Engagement Division
Sustainability Challenge 2018
Welcome to the staff pages for the Sustainability Challenge 2018.

Here you'll find resources to download for your own information and to use with your students. We've also put together some FAQs which you might find useful.
Email us at: egc@manchester.ac.uk or watch the video below to find out more.